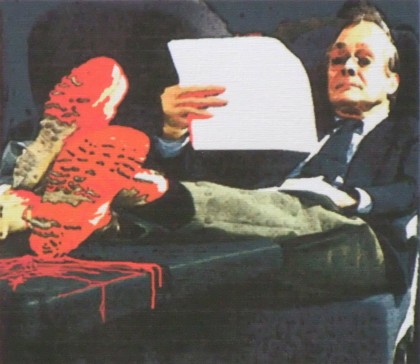 Desert Boots, digital print, limited edition
The Endless Newscape
Solo exhibition by Barry Cleavin; a provocative, often satirical exhibition of digital prints from the last 12 years.
Barry Cleavin
1 July to 1 August, 2015
Preview: 29 June
6pm
A survey exhibition challenging world absurdity, by master printmaker Barry Cleavin
Tane 5
2015
Modernism Meets Tane Mahuta
New & Recent paintings
Roy Good
12 August to 11 September 2015
Preview: Monday 10 August
6pm
New & recent works by modernist painter Roy Good
Within Landscape
New paintings from Lake Coleridge to Nelson
Wayne Seyb
22 September to 24 October 2015
Preview: Wednesday 22 September
6pm
The Diversion Gallery exhibits fine art by leading New Zealand contemporary artists, in a stylish gallery on the waterfront in Picton, Marlborough.
We offer paintings, drawings, sculpture and limited edition prints by some of New Zealand's most collectible fine artists. Most of the gallery's stable of artists are acclaimed senior or mid-career artists of national and international repute, and whose work is held in major public galleries and private collections; from time to time we introduce emerging artists of distinctive talent.
The Diversion Gallery also has a selection of jewellery pieces by New Zealand art jewellers.
The gallery is open 12-5pm Wednesday to Saturday, or viewing welcome at other times and days by arrangement – just call or text 0274 408 121. We ship internationally.