Plain Song From the Loft (The Optimist Series)
2014
The Optimist
New paintings (for details, see text below)
JS Parker
13 November - 6 December 2014
Preview: Weds 12 November 2014
6pm
The Optimist series includes stunning From the Loft paintings and an Optimist suite with a lifted high note above a bass note, the artist celebrating not only life but also the purity of modernism.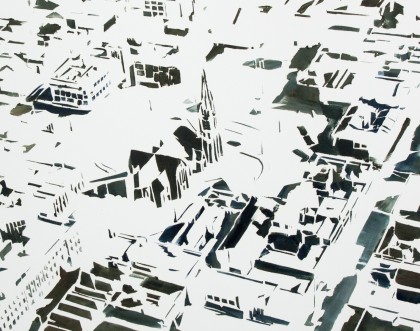 Carver (dark) by Sophie Scott
2014
Mono, Duo
Mesmerising, original works by two emerging artists
Josh Bashford
Sophie Scott
11 December 2014 to 24 January 2015
Josh Bashford and Sophie Scott both tend towards the monochromatic, a reversed out definition of the image, although in completely different ways. These two young graduates of Ilam (Canterbury) are each making a very distinctive mark - Bashford with his intricate, fluid monoprints on a large scale celebrating nature, birdlife and the otherworldly elephant fish; Scott with paintings made from stencils, hovering at the point where an image forms or dissolves, places recognisable only through shadows or highlights of their landmarks.
Details of this exhibition are currently under review
The Diversion Gallery exhibits fine art by leading New Zealand contemporary artists, in a stylish gallery on the waterfront in Picton, Marlborough.
We offer paintings, drawings, sculpture and limited edition prints by some of New Zealand's most collectible fine artists. Most of the gallery's stable of artists are acclaimed senior or mid-career artists of national and international repute, and whose work is held in major public galleries and private collections; from time to time we introduce emerging artists of distinctive talent.
The Diversion Gallery also has a selection of jewellery pieces by New Zealand art jewellers.
The gallery is open 12-5pm Wednesday to Saturday, or viewing welcome at other times and days by arrangement – just call or text 0274 408 121. We ship internationally.
Holiday Hours 2014: The Gallery will be closed from 20 – 26 December 2014. Open from December 27-31 limited hours, and on request please call or text 0274 408 121. Closed January 1-2.